The danger of domestic cleaning methods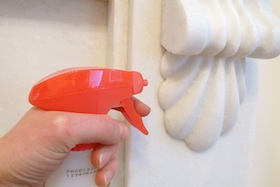 Ordinary domestic cleaning products and methods are unsuitable for historic or delicate objects and interiors as they can cause serious and irreversible damage.
Knowing what NOT to do to an object or interior is just as important as knowing what to do, which is why seeking help from professionals can ultimately save you time, money and heartache. Improper handling and movement of objects can also cause serious damage.
The danger of neglect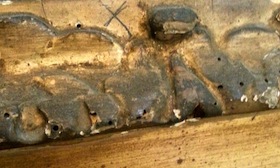 Unfortunately, a lack of cleaning can also damage objects and interiors. A build-up of dust and dirt attracts moisture and insects (such as woodworm - see photo) both of which are very harmful.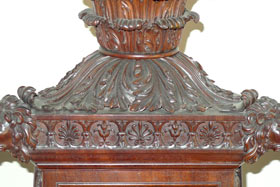 For example: dust cementation [i.e. compacted layers of dust that appear dark or gray to the eye] is often present in carvings, grooves and creases and if that surface is left untreated the results are destructive. Museums tackle this problem by employing conservation cleaners to care for their collections and interiors.
Conservation cleaning methods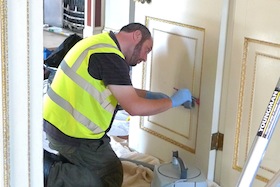 Conservation cleaning techniques will naturally vary according to the material being cleaned; however, the uniting principle is that the method should be as non-invasive as possible.
This is in order to preserve the physical and historical integrity of the object.
Conservation cleaners therefore do not use harsh chemicals or cleaning products but rather employ museum approved cleaning techniques to gently remove dust and dirt.
Having a professional Conservation Housekeeper care for your historic or delicate objects and interiors will: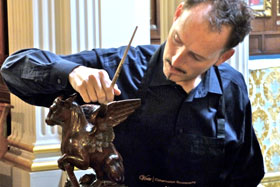 enhance their beauty without causing harm
prevent damage caused by inappropriate domestic handling or cleaning techniques
prevent the build up of dust – particularly in crevices or folds – which can lead to dust cementation, pests and deterioration
save money by preventing the need for costly restoration
preserve historical integrity, which in turn enhances value
Contact Virtu Conservation Housekeeping